Most Important Books I Read in 2013
For those of you who have similar taste in books as I do, here's a short list of the books that stick out in my memory after having read them this year. I read a lot. Like, my "to read list" has over 300 books on it, and in my Kindle I've got an "anxious to read" list of those whittled down to 40. I'm always reading 8 or 9 books at a time.
With the amount of reading I do in a year, finishing at least one book per week, I made this list very quickly off the top of my head as the books that had an impact on me. Whether I liked them 100% or not, I feel these were the most important reads of the year. Just because I read them this year doesn't mean they all came out this year, even though a few of the ones on this list did.
I encourage you to read each of them for yourself.
Reimagining Church: Pursuing the Dream of Organic Christianity by Frank Viola
I've kept it little secret that what I'm involved in here in Peru is pretty organic and disciple focused. I've always been under the impression if we were to take members of the first century church and put them in a time machine and bring them to one of our 'event' oriented services, they'd be pretty confused.
Viola does an amazing job of Scripturally going through the many trappings of modern 'church' that are taken for granted and assumed to be Biblical and re-imagines what New Testament church would truly look like.
Get it on Amazon here. Get the audio version FREE when you sign up for a 30-day trial with Audible.com
Money & The Church by Stephen R Crosby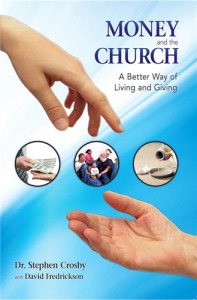 Earlier this year Dr Stephen Crosby, friend, mentor and recurring Fire On Your Head podcast guest published this book and agreed to be on the podcast to talk about it (listen here).
The topic of money stirs passions in the church. Whenever I tell people I don't believe in tithing, they tend to assume that means I'm stingy and not giving any money at all. On the contrary. I believe in something I refer to as "giving generously" instead, without worrying about whether it's 10% of what finances I have. I realize there are folks who in reaction to being abused on this topic, have quit giving all together out of fear of abuse.
This book challenges long-standing traditional teachings on money and offers a life-giving alternative.
Get it on Amazon here.
The Veil – Blake Healy
I've been listening to the Revelation Bomb, the podcast Blake co-hosts ever since my recurring podcast co-host/guest David Edwards recommended it to me. It wasn't until a few months ago I put 2 and 2 together and realized one of the hosts had authored The Veil, and when I did, Blake was giving it away for free for a few days. So I grabbed it, obviously.
I will never view the spiritual realm — or at least first and foremost the subject of the spiritual realm — the same ever again after reading this book. In fact, the author makes it so much simpler and easy to understand. I recommend this book and hopefully in the new year we can get Blake on the podcast to talk about some of these themes.
Get a copy on Amazon here.
APE: Author, Publisher, Entrepreneur-How to Publish a Book by Guy Kawasaki
This year also saw myself finally self-publish my first title. There's no longer a stigma to self publishing (not that that's to say all self-pubbed books don't suck, because, well, I've come across plenty that have). But it's an understatement to say that like the internet in the last decade or two, self publishing platforms like Amazon's Kindle Publishing Direct (KDP) and print on demand services like CreateSpace have helped level the playing field. Significantly.
Enter Guy Kawasaki who not only teaches everything you need to know if you want to be an author, publisher but how. And, he puts into practice what he's talking about and publishes this title in the very same way he encourages authors to do.
At the time of writing this post, you can get his book for free. If you claim you are an aspiring writer, and don't get your hands on a copy of this book, I'll just assume you're not serious. This is one of the definitive works on the subject.
Get the audio version FREE when you sign up for a 30-day trial with Audible.com
The Missional Entrepreneur: Principles and Practices for Business as Mission by Mark L. Russell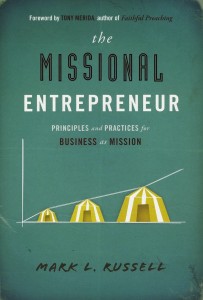 I have to admit, I first got this book in late 2012, but I didn't finish it until this year, so it counts and deserves to be on this list.
Why?
Besides the fact it is one of the books that gives clarity and articulates for me why I'm trying to be a missionpreneur, it also would be beneficial to Christians of all walks of life to read.
Why? Because I've notice two ditches believers fall into when it comes to missionaries or pastoral leaders and financing them. There's the crowd that says "well Paul was a tentmaker so it's wrong for a pastor to take a salary". Then there's the other crowd, which I've run into a lot as a missionary that says missionaries or Christian leaders shouldn't work at all but should be exclusively funded.
Mark L Russell does a great job showing that throughout the life of Paul, there's credible evidence in the Scriptures that he did both. It's likely that depending on the city he was in and the state of maturity of his disciples there, he'd work, while others he received offerings from. It wasn't an either/or, but a both/and situation for him.
Another important point the author makes that I had never thought of before is that in "closed countries", or as he likes to call them, "creative access" countries, Christians are inadvertently doing more harm then good when they use cover stories like jobs and businesses for why they're in the country. For example,
After uncovering a fake business, governments are apt to change visa regulations, which can cause problems for all foreigners, including those who are running legitimate businesses. Visa hassles drain precious energy and money from missional entrepreneurs who really need it. It is a real tragedy that fellow Christians frequently are the root cause of these visa hassles.
There are many aspects to being a missional entrepreneur, whether in your own country or a foreign country, that the author talks about. If this subject would be of interest to you, grab a copy at Amazon here.
It's All About Jesus: What They Never Told You in Church by D.R. Silva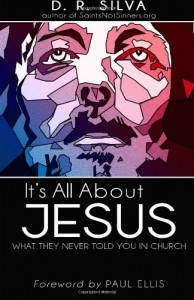 I thoroughly enjoyed Silva's book. It was on my Wishlist to get and fortunately for me, he offered it free recently so I made sure to grab it. Once I started it could not put it down.
Not only do I recommend this book, but I especially recommend it if you are "recovering from church" as we know it, but are not a backslider and haven't turned your back God or "thrown the baby out with the bathwater". This book will help those who are newer to the faith avoid some of the pitfalls the rest of us went through in the Christian walk.
Those of us who did, we can all breathe a collective sigh of relief that someone has written a thoughtful collection of thoughts on how to get focused back on Jesus and not the peripherals of the faith.
Definitely recommend. Buy copies for your ten closest friends. Oh, and subscribe to the Fire On Your Head podcast so you don't miss an upcoming interview we're scheduling with the book's author.
Get a copy of the book on Amazon.
Burn: Melting into the Image of Jesus by Eric Gilmour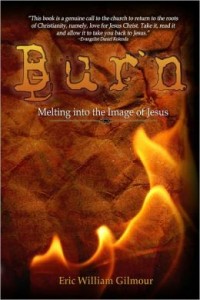 Eric, a fellow FIRE grad has been an acquaintance of mine for a number of years now, and he's also provided a number of articles for Fire Press.
I have to admit, I always loved editing his blog posts because they were alive and inspiring, and convicting on occasion. For that reason, I couldn't wait to read this book when he put it out and earlier this year I started to read it.
I couldn't put it down and usually felt that same sense of edification and life. Not all books I pick up and read — even ones I enjoy — have the depth of someone who obviously burns with a passion for Jesus and clearly spends a lot of time in intimate communion with Jesus.
You know those people who when you're done talking to them you want to go pray for like 5 hours because they make it seem like something you're not doing enough of, but in an invitational and non-condemning way? Eric Gilmour is such a man of God, and this book just oozes with that life.
I'm definitely looking forward to reading his follow up work, Union: The Thirsting Soul Satisfied in God.
Get a copy of Burn here.
There are many more books that impacted me in some way or another, but these are the ones that emerge to the top of the pile. I encourage you to add them to your Kindle reading material. Also don't forget to check out my other book recommendations.
Leave a comment below and tell me what was one of/some of the best books you read this year.
About Steve Bremner
Steve Bremner is a Canadian missionary to Peru, who is called to raise up disciples who flow in the power of the Holy Spirit within a missional community named Oikos. If you like Steve's blog, you'll also like his Kindle books. Note: this post may have contained affiliate links of which the author receives a small commission if you purchase something recommended in the post.