Why I Didn't Tell You I Got Engaged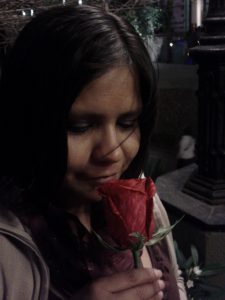 This is going to be more along the way of a personal update and we'll get back to my theological musings next week.  I'm hiding this from search engine results and not SEOing it in any manner.  But even then, I'm still weary of sharing personal details on my blog but feel this is another way to do just what I did last Friday night on Facebook–share news with as many people as possible in one fashion.
So for those of you who check my blog out because of my suggestions in my newsletters to do so in order to be more up to date with my life, this is for you.
I've been in a serious relationship with my girlfriend Lili since last February, after having been good friends for nearly 8 months or so prior to that.  She was the friend who I've mentioned in previous posts that helped me find my current apartment (which I'm about to move out of) and the new one (that I'm about to move into).
We'd been friends since around May or so of last year, during a pivotal turning point in my life and ministry in Peru.  She had three different dreams about us forming a romantic relationship, the first of which came at a rather annoying time for her as she was interested in some other guy, and I was back in Canada (this was last year, in 2011).  When I got back, it wasn't long after that I wound up being told I needed to move out of my apartment in Miraflores because my landlord sold it and I had a month to be out.  Lili wound up helping me, and as mentioned in the previously linked blog post, she had a dream that God used to lead us to where I've been living for the last year since.
Long story made short: we knew we were liking each other and playing it cool, and finally became an item on February 9th. Almost everybody in our lives have encouraged this.  Except a few guys in her past that have all had crushes on her, but other that, we've had a lot of support.
In August and September, we both went to Canada and met friends and family of mine.  People encouraged us, and asked me if and when I was going to "put a ring on it".  In discussing this stuff with my family, it was basically a foregone conclusion that "yeah, this is Steve's future wife", since I don't have a long dating track record and neither really does Lili, people have generally taken us seriously as knowing what we're doing.
In the weeks prior to giving her a ring, my parents and I have discussed plans for coming down, and timeframes that work best for the lease I'm going to sign for the new apartment, and timeframes in work Lili is doing, all revolving around the wedding, which we still haven't picked a specific date for.
Then, a few weeks ago, I finally met Lili's parents and sister.  She introduced me as her parents' future son-in-law.  They referred to me a few times as Lili's husband.  This seemed like a good sign for me that things were going well.
I bought the ring within a week, which I had put off doing until I was able to meet her parents, and held on to it for almost another week until officially asking her to marry me.
She treated me to a mexican restaurant in Barranco, a nice touristy part of Lima, where we went on our second date.  Afterward, I walked her down to the beach that overlooks the Pacific Ocean, and while sitting on a bench, where we had also gone on our second date, pulled out the ring and asked her if she would marry me.  She was surprised, but hesitated.  Apparently she was jerking my chain so I'd be worried for a moment that the answer was not going to be yes.
Afterward we walked back up the path we took to get there, and made our way to a Starbucks in order to try using their wifi logging on to Facebook with my phone and share the news immediately with everybody we possibly could in one fell swoop.
Yes you read that right.
Facebook was the first to know about something as important as our engagement, rather than telling people face to face.  This was our decision, even if it may seem rushed.  Fact of the matter is, it seemed like the perfectly reasonable thing to do at the time.
As a result, I've had a few of my friends, who indicated they thought I should have told them first before putting it on Facebook.
They're probably right.
None of them were offended, but just thought you don't go to Facebook first with something like that.
For us, considering basically from the start of this relationship, everybody knew and expected it to happen, I was a little surprised at this reaction from some.  I just could not wait to share this news with the whole broader context of people who would like to know this in a way that Facebook and social media afforded us.
At any rate, I'm not a numbers guy, or a "the timing means something prophetic" guy, as I've watched all sorts of people claim dates and numbers to mean things and for all I could tell, they didn't.  But Lili pointed out to me that we started our relationship on the 9th of February, and I asked her to marry me on the 9th of November, exactly 9 months later.  I don't know if the number 9 has any significance or not, but I thought that was neat.
At any rate, thanks for celebrating in our happiness and the next step of our lives.
You are more than invited to the wedding in May or June.  No, we are not following another 9 pattern for this one, sorry.  We'll let you know when and where on Facebook.
About Steve Bremner
Steve Bremner is a Canadian missionary to Peru, who is called to raise up disciples who flow in the power of the Holy Spirit within a missional community named Oikos. If you like Steve's blog, you'll also like his Kindle books. Note: this post may have contained affiliate links of which the author receives a small commission if you purchase something recommended in the post.